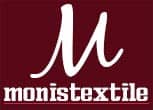 Moni's Suppliers
With the well established retail outlet for over 2 decades it was time to take one step ahead.
Understanding the pace at which Nasik is growing and with that the ever increasing textile related needs, Shri Nicky Taurani and Ritesh Taurani came up with the business intellect of catering to the textile related needs of Nasikites and hence ventured into the establishment of Moni's Suppliers in 2011.
Our product basket includes, T-shirts for events, Industrial uniform, School and Staff uniform, Hospital staff uniform, Hospital bed sheets, Apron, OT gowns, blankets, Blazers, Rain coats and sportswear etc. You name it and we have it!
With a well established relation with various manufacturers and job workers, we provide tailor made products and services to our clients and that's the reason why Moni's Suppliers has gained enormous response in a short period of time.
Keeping in mind how competitive the market is and with customer satisfaction as our ultimate goal our team is always striving to understand the customer's requirement and come out of their comfort zone to deliver unmatched products.
We are now leading suppliers to very renowned industries, hospitals, hotels and schools in and around Nashik. We are also proud to be in the vendor list of corporate like Cipla and Alkyl Amines chemicals Ltd based in Mumbai.